Tommy's Wok is a small, out-of-the-way place tucked inside the Redwood Court with all the charm of Carmel.
Szechuan, Hunan and Mandarin cuisine is served fresh and natural. Everything on the menu is homemade - no worry here about MSG and other artificial ingredients! Tommy Mao (Chef) and sisters, Van and Joanne, have had two other successful restaurant ventures in Sausalito and Oakhurst. Tasting is believing at Tommy's Wok!


"At family-run Tommy's Wok in Carmel, pan-fried dumplings, commonly known as pot stockers, are one of the most popular items on the menu.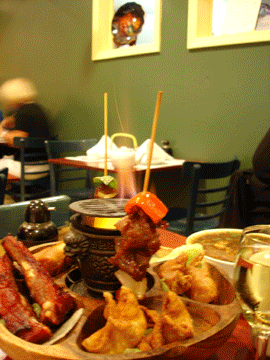 Pictured above: Flaming Pu Pu Platter for Two and Szechuan Chicken
HOURS:
TUESDAY - SUNDAY
Lunch:
11:30 am - 2:30 pm
Dinner:
4:30 to 8:30 pm
Closed Mondays
Private Parties:
from 15 - 30 people.
Catering Available:
Call for more information.
Fine Wines
Patio Dining
Takeout
Payment:
All Major Credit Cards
Here the dough is made from scratch and hand-formed into dumpling skins which are filled with a mixture of fresh ground pork and Chinese cabbage. Then they're pan-fried and steamed."
Monterey County Weekly, Pat Tanumihardja
BEST CHINESE RESTAURANT "Bustling Tommy's Wok is the only place to find Chinese food in Carmel-by-the-Sea, but its reputation and delicious, fresh food draw people from all over the Peninsula to town. The dishes paraded out of its tiny kitchen are bright, fresh, aromatic and satisfying in the ways that only really good Chinese food can be." The Carmel Pine Cone