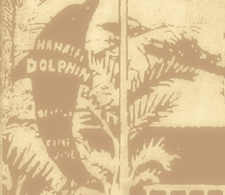 Hanalei Dolphin Restaurant,
Fish Market & Sushi Lounge
in Hanalei on Kauai Hawaii
Hwy 560 in Hanalei Dolphin Center
Hanalei, HI 96714
Phone: 808.826.6113
Fax: 808.826.6699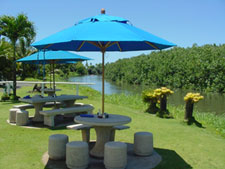 Since the Dolphin opened its doors in 1977, the enchanting Hanalei Heritage River still meanders slowly past it, taro fields grow across the road, and the entire dining room opens up to a romantic tropical setting, and today not a bit of this charming environment has changed! What has changed at the longest continuously operated restaurant on the Northshore is that the Hanalei Dolphin now serves lunch, cocktails and lazy afternoon pupus under colorful umbrellas on the river's edge, and also opened the Hanalei Dolphin Fishmarket where locals and visitors purchase the freshest fish on the island and Dolphin specialties.

Hours:

LUNCH: 11:30 am to 3 pm
(Lanai & Riverside Tables)
DINNER: 5:30pm to 9 pm
(Open Air Dining Area)
COCKTAILS & APPETIZERS:
11:30 am to 9 pm
No Reservations
Beautiful Riverside Outdoor Dining in a lush, tropical setting.
Full Service Bar and Wine List:
California and Imported Wines
Unique Shops and Art Galleries
Payment:
VISA, MasterCard

The Dolphin is the only restaurant located on the Hanalei Heritage River and is a Northshore institution. Our seafood selections will satisfy all seafood lovers, and our steak, chicken and vegetarian entrees make the Dolphin an excellent choice. After dinner be sure to check our the Dolphin Center's unique shops and art galleries.

The Hanalei Dolphin - your first and last stop in Hanalei.

Take Out and Catering Available from our Fishmarket:

Sashimi platters, Ahi and soft crab sushi rolls, ready-to-cook Teriyaki Shrimp and Beef Stix, New York or Filet Mignon, salad mixes, homemade dressings and Dolphin Squaw bread.