Appetizers
Shrimp Won Tons
Prawn & basil won tons served with spicy sweet & sour sauce & refreshing Hawaiian salsa. $14.50
Tropical Ceviche Du Jour
An island blend of fresh seafood, yuzu juice, cilantro, kamuela tomato, cucumber 15
Oysters Moana
Tempura fried, wakame salad, sesame aioli, masago and kaiware sprouts 15
Pacific'o Soup du Jour
Always something fresh and exciting. Your server will happily tell you about it. MP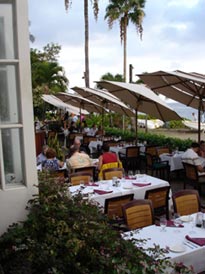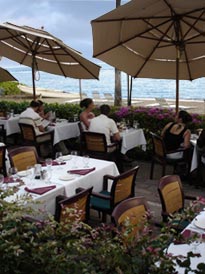 Salads
O'o Farm Salad
Salad greens, tomatoes and vegetables in season, extra virgin olive oil, citrus juice and Hawaiian sea salt 14
Grilled Caesar
Little gem lettuce, house Caesar dressing, olive oil, croutons, egg 13 ... add chicken 4.50
Sandwiches
O'o Farm Smoked Pork
mango bbq pulled pork, topped with our tropical salsa, fries 12.95
Southwest Chicken Wrap
Chipotle-braised chicken, black beans, green quinoa, guacamole wrapped in whole wheat tortilla served with a tomatillo pico de gallo 14.50
Fish Sandwich
Seared fresh fish of the day, mizuna greens, blood orange saffron aioli, namasu, fries 17.50
Maui Burger
All natural Hawaiian 1/2 pound beef patty, maui onion aioli, goat cheese, lettuce, tomato, maui onion and served with fries 19.50
Entrees
Portobello
Grilled, organic quinoa, pine nuts, Mediterranean salad, cotija cheese, O'o Farm cilantro pesto, balsamic reduction 14.50
Fish & Chips
Tempura fried fresh fish, fries, tartar sauce 16.50
Ginger Fish
Fresh catch with crystallized ginger and panko crust, peanut sauce, sweet Thai chili sauce, Kula vegetables and rice 17.50
Louis' Tacos
Seasoned fresh island fish in soft corn tortillas and tomatillo pico de gallo. Accompanied with thin sliced cabbage, fresh serano and local grown lime 16.50
Korean Taco
Kalbi beef, Maui onion, cotija, kimchee 16.50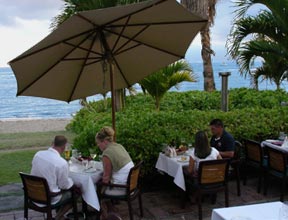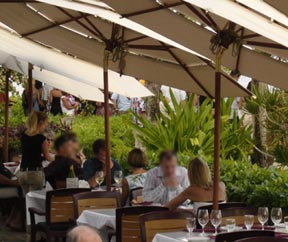 Appetizers
Local Style Poke
Ahi, charred onion, sea beans, pickled ogo seaweed and inamona (toasted kukui nuts) MP
Pork Belly
Sauteed O'o Farm greens, demi-glace sauce, hot mustard 14
Scallops
Fresh diver scallops, kukui nut, edamame, pea shoots, coconut carrot dashi broth 15
Oyster
Tempura battered and flash fried, wakame seaweed salad, garlic aioli, tobiko 15
Ceviche
Fish, yuzu lime, cucumbers, tomato, onion, herbs plantain and sweet potato chips 15
Won Ton
Wonton and basil wrapped shrimp, sweet & sour sauce, Hawaiian salsa 14.50
Lobster Ravioli
Shiitake mushrooms, onions, fennel, marsala cream sauce, truffle oil 18
Pacific'O Soup du Jour
Featuring our O'o farm grown ingredients MP
Salad
We use our own "naturally" grown O'o Farm raised greens, fruits, herbs and vegetables wherever possible. Otherwise, we use and support our neighbor farmers on Maui.
O'o Farm Salad
Enjoy the purity of this naturally grown salad composed of our fresh salad greens, seasonal vegetables tossed with extra virgin olive oil and citrus juice. Garnished with red Hawaiian sea salt 14
Kula Beets
Organic beet "confit", pickled beets, hijiki seaweed, namasu pickled veggies, beet juice, fresh herb puree 12
Maui Onion and Surfing Goat Cheese Salad
O'o farm mixed greens, roasted Maui onions, smoked tomato dressing, local goat cheese, tomato, won ton chip 17
House Salad
Blue cheese, smoked bacon, heirloom carrots, soy citrus vinaigrette 12
Land Entrees
Portobello
Grilled marinated mushroom, Mediterranean salad, organic quinoa, pine nuts, cotija cheese, O'o Farm cilantro, pesto and balsamic reduction 27.50
Chicken
Organic half chicken, pan roasted with natural jus, O'o farm house vegetables, potato du jour 35
Duck
Slow rendered duck breast, roasted ulu (bread fruit), sauteed broccolini and a verjus sauce 39
Lamb
Harissa sesame crusted rack, house made demi-glace, tempura asparagus, potato du jour 44
Filet
Center cut filet, O'o Farm veggies, grilled scallions, al'ii mushrooms, potato du jour, shiso chimichurri garnish, red wine demi glace 42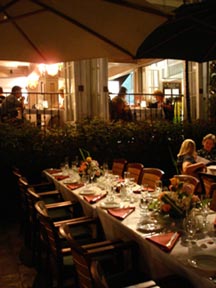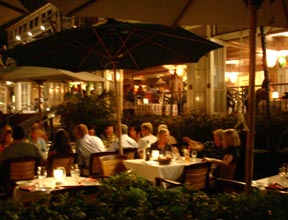 Sea
Scallops
Fresh diver scallops, quinoa, pine nuts, mint, grilled asparagus, pea tendril, tomato reduction, cilantro pesto 29.50
Kona Winds
Grilled fish, O'o Farm greens, sprouts, macadamia nuts, avocado and Maui onion salsa, surfing goat cheese, jasmine and black Thai rice, bacon soy vinaigrette 38
Snapper
Panko crusted fish, Molokai purple potato, lobster coconut cream sauce, wilted O'o Farm greens, balsamic reduction MP
Coconut Crusted Mahi
Toasted coconut and crushed macadamia nuts, Thai peanut coconut sauce, sweet & sour glaze, tropical fruit salsa, jasmine rice and black Thai mochi rice 39
Ahi
Seared in our O'o Farm roasted espresso-shiitake rub, Hamakua Big Island mushrooms, O'o Farm vegetables, edamame, warm dashi broth, truffle accent 38
Hapa Tempura
Ono and ahi tempura roll, masago roe, nori dry seaweed, lime basil sauce, wasabi, wakame seaweed salad 39
Seafood Risotto
Saffron O'o Farm beet risotto, with seared shrimp, fish and scallops, scallion oil, and beach mushrooms 39
Lobster
Poached Maine full tail, fennel, shiso peas, celery, charred onion, lobster bisque sauce 45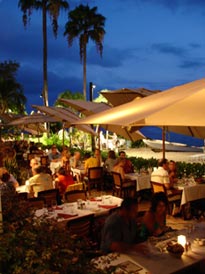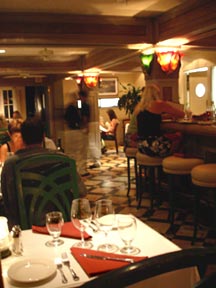 Lumpia
Pacific'O Signature Dessert! Diced pineapple and bananas whipped with cream cheese, wrapped in Filipino pastry served warm with homemade Ice Cream atop crushed macadamia nuts 13
Berries and Cream
Buttermilk panna cotta, seasonal berries, lemon peel, basil gel, Bordeaux cookies crumbles 10
Banana Bread Pudding
Warm banana bread pudding, brandy butter caramel, toasted pecans, caramelized apple banana and caramel cardamon whipped cream 10
Chocolate Decadence
Bittersweet chocolate pate topped off with a warm dark chocolate-framboise ganache and local grown strawberries 12
Sorbet
Two scoops of Lappert's fruit sorbet 9
Ice Creams du Jour
Featuring Lappert's ice creams, please ask your server for today's flavors 9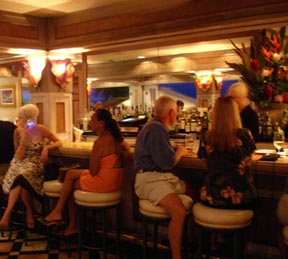 Menu items and prices subject to change without notice.